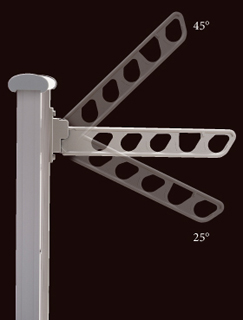 Details
- Made from aluminium (aluminum)
- Can be easily raised and lowered
- Can be easily adjusted the holding angle
- Collapsible
- Designed to hold an entire load of laundry
- Rust-resistant
- Suitable for indoor and outdoor use
- Installation required
(Your local hardware store can assist with the right fasteners)
- Made in Japan
- Reduces power bills
- Extends the life of your clothes
- Adopted by mainstream business in Japan
(Refer to
catalogue
)
Are you concerned about your clothes shrinking in a dryer? Do you have a headache when receiving an electricity bill? Are you looking for the way of drying your laundry in the most eco-friendly way, all you need is the sun and our laundry pole holders!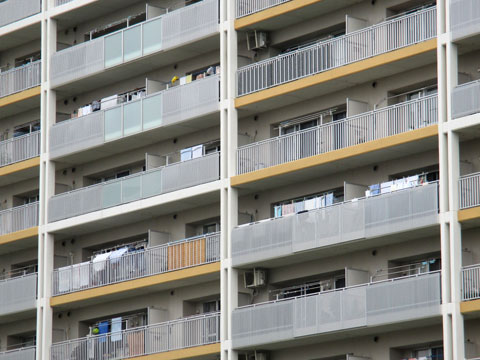 Using an gas/electric dryer may be easy. But it can be hard on your clothes, the environment, and your wallet. Air-drying is much gentler on your clothes.
There are many benefits of air drying;
- good for the environment
- saves your money
- longers lasting clothes
- eliminate static cling
- kills germs and bacteria
Most people in Japan hang out their laundry to dry. Almost all condominiums and apartments have clothing rod holders on the balcony of each unit.
Inspired by air-dry habits in Japan, NAGAE has created timeless and modern version of laundry pole holders. Our laundry holders are designed to suit flats, condos, maisonette, apartments and house of all kind.
No more falling
You often see in Asian countries that long bamboo poles hanging wet clothes are stuck out from a window. Do you know such a conventional way of drying clothes is quite a dangerous task?
Firstly people hang laundry on poles, then carry heavy poles to the window, and finally stick those bamboo poles into the socket on the wall. As those sockets hold only one end of poles, clothes poles are prone to come loose and fall down on the ground easily. There have been numerous laundry related accidents.
Unlike those traditional pole holders, our pole holders, a pair of holders, hold the both ends of clothes poles. You don't have to carry heavy poles with wet clothes or worry about dropping clothes on the ground. You feel safe hanging out the laundry.
Our products also provide clothes drying options for people who do not have enough space for a conventional rotary clothesline.
Strong and handsome 'Made in Japan' laundry pole holders
A pair of our pole holders are directly attached on wall or railings. The holders have frames with holes in which you slide metal or wooden laundry poles into. The folding frames are adjustable. They can be put at 25, 45 or 90 degrees. When you don't use them you can put all the way down.
The holder is super easy to install and maintain, and will last for many years. It is designed to support the weight of an entire wet load of laundry. Simply load it up, lift it up, and it lets your clothes hang to dry. It guarantees you a much neater and spacious home, and blends marvellously well at your laundry and balcony areas. You do not have to feel tiredness caused by heaving of laden bamboo to air wet clothes anymore!
Which NAGAE's Laundray Pole holder (Folding Frame) Is Best For You?
Our range of laundry pole holders have proven to be extremely popular in Japan. Due to the vast popularity and friendly feedback, we have expanded our product availability for the other countries.
Do not hesitate to contact us with any questions or inquiries through our contact page.