What is Die Casting?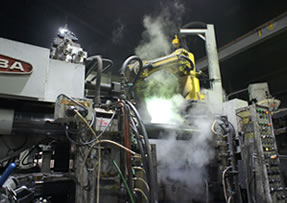 Die casting is a manufacturing process for producing metal parts by forcing molten metal under high pressure into a die (or mould) cavity. Generally speaking, these die cavities are created with hardened steel that have been previously machined to the net shape or near net shape of the die cast parts.
The die casting process allows products to be made with high degree of accuracy and repeatability. This strength makes die casting a suitable choice for mass produced product.
Almost every product or part of the product you use in your daily life is produced using die casting technique.
The die casting process usually produce parts using primarily non-ferrous metals, such as zinc, copper, aluminium and magnesium
Process
Die (mould) design
There are many design issues that must be considered in the design of the dies (moulds). Firstly, the die must allow the molten metal to flow easily into all of the cavities. Secondly it is important to remove the solidified casting from the die easily.
Our design team has considerable experience and expertise. With 3D design analysis, we can offer accurate designs.
---
Process Cycle for Die casting
1. Clamping: The first step is the preparation and clamping of the two halves of the die.
2. Injection: The molten metal is transferred into a chamber where it can be injected into the die. Once transferred, the molten metal is injected at high pressures into the die.
3. Cooling: The molten metal will begin to cool and solidify once it enters the die cavity. When the entire cavity is filled and the molten metal solidifies, the final shape of the cast part is formed.
4. Ejection: After the cooling time has passed, the die halves can be opened and an ejection mechanism can push the cast part out of the die cavity.
5. Trimming: The material in the channels of the die will solidify attached to the cast part during the cooling time. This excess material must be trimmed from the cast part either manually via cutting or sawing, or using a trimming press.
---
Our manufacturing capabilities – Forging / Casting Services
NAGAE have offered a full diverse range of forging/ casting processes and worked as an original equipment manufacturer (OEM) or original design manufacturer (ODM) for over 60 years in Japan.
We have several die-casting machines from 50 tonnes to 800 tonnes which are capable of producing components from 10g to 3kg. We specialize in casting aluminium but deal in a range of elemental metals and alloys such as brass and zinc.
Our design, engineering and production specialists have the experience and knowledge to assist your project from conception to production from small individual components to machined, assembled and fully finished products.
If you are looking for reliability and quality, look no further at NAGAE Ltd. We pride ourselves in supplying excellent aluminium die castings and zinc die castings at a competitive price.