All-in-One Entrance Panels

Our all-in-one entrance panels are a panel with a night light, a name (number) plate, an intercom cover, and a newspaper holder. The panels are suitable for the front entrance of a condominium unit and widely introduced in Japan.
There are a variety of selection of our entrance panels. Most of them are OK with reinforced concrete wall and autoclaved lightweight concrete wall.
Their main material is aluminium, which is among the most environmentally friendly metals on the planet. On a percentage basis, it is the most recycled of any industrial material.
NZA series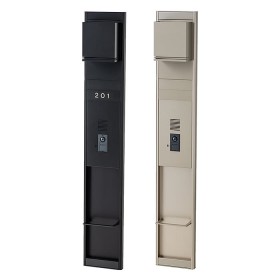 NIA series