Placing a Buddha statue will bring positive energy in your home.
Our museum quality Buddha statues are made in
Takaoka,
which occupies about 95% amount of copperware production in Japan. The industry has progressed together with Takaoka since the city began in 1611. There are small and big workshops everywhere in the city that keep the techniques and tradition going on.
Developing the city's strength, NAGAE Ltd. manufactures many kinds and sizes of metallic Buddha statues and becomes one of
the world's

largest
manufacturers
of metallic Buddha figurines. Our Buddhas are carried at museum shops and high-end retailers around the world.If you would like to find your local shops that carry our Buddha statues, contact
us
.
Material
We make Buddha statues of several metallic materials such as steriling silver, bronze and copper. Whilst most Buddha statues are made of bronze or copper, our "antique-looking finishing" Buddhas are made of zinc-based alloy, which is more afforable. Whichever material it is made of, the quality of our statues does not change at all. When you get closer to, you would be amazed how intricate detail our Buddha statues have.
Colour – "Antique-looking finishing"
"Antique-looking finishing" Buddha statues give a modern and sophisticated twist by using chemicals to oxidize or corrode the surface of Buddha statues. With deliberately aged appearance, our eye-catching rustic Buddhas add character to your space.
We offer three antique colours; Bronze Matte, Bronze Gloss, and Antique Gold. They are made using a traditional colouring techinique that has been passed down from generation to generation for almost 400 years in Takaoka.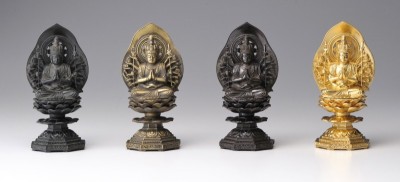 From left, Bronze Matte (KBS), Antique Gold (KBK), Bronze Gloss (KBC) and Gold Leaf (AGH)
Colour Name

Colour Code

Description

Bronze Matte

KBS
Antique bluish bronze colour (green)
Matte finishing

Antique Gold

KBK
Antique brazen colour

Bronze Gloss

KBC
Antique reddish bronze colour (brown)
Gloss finishing
Gold Leaf
AGH
Gold leaf coating
NB: Being coloured by hand, every Buddha statues slightly vary on finishing.
Birth Year Lucky Buddha series
- Personal Guardian based on your birth year
This series, based on the Chinese Zodiac calendar, consists of eight Buddha statues. According to Japanese Buddhist culture, each Buddha is connected with a specific Zodiac animal (12 animals) and serves as your protector (guardian). Which Buddha is yours? Please see the below chart in detail.
We offer two sizes (15cm and 7cm) and three colours. You are sure to find the right Buddha.
Click a photo in detail.