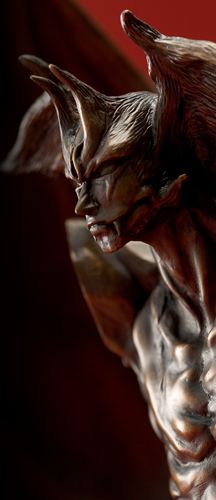 What is 'Gouma Jyoudou Zou'?
This Devilman statue is inspired by Buddha's life.
His life was divided into eight phases. The final phase to achieve enlightenment is called 'Gouma'. A legend says that as the about-to-be Buddha, Siddhartha Gautama, sat in meditation, a demon, Mara sometimes called the Lord of Death, sent vast armies of monsters to attack him. Siddhartha sat still, untouched, and defeated them. Then, he realised enlightenment and became a Buddha.
'Gouma' means to subjugate demons who try to prevent people from being enlightened. 'Jyoudou' means to achieve enlightenment through the hash training.
Devilman is a Japanese manga series written and illustrated by Go Nagai. In the story, Devilman championed the cause in chaos. He had many battles with the demon hordes. He encountered many foes such as Sirène the demon bird and a large turtle-like demon called Jinmen. Fighting back against demons to protect human, he ironically found he fought demons that were corrupt figure of human. Though he lost his loved one through battles, he decided his final war against demons. Such his images would be synchronised with 'Gouma' of Buddha.
This bronze statue 'Devil Man – Gouma Jyoudou Zou' will become the symbol of high-mindedness, strong will power, and courage for people facing confusing circumstances.
We ship your order directly from Japan.
Please note that it takes time to delivery, as this product will be produced after confirming your order.